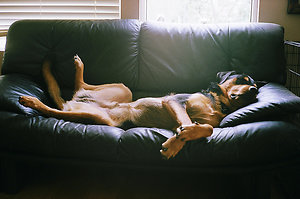 What is Hypnosis?

Hypnosis is a relaxed state of mind and body during which the conscious mind is suspended, leaving the subconscious mind - the part that stores our beliefs and learned behaviour - open to suggestion and therefore change.
We all experience hypnosis without even realising it; for instance when you drive home and wonder how you got there, or when you are so engrossed in a good book that you don't hear when someone is talking to you.
That is hypnosis, when the conscious mind is suspended, or 'sleeping'.
Some people are afraid to give hypnosis a try due to the image put forward by the stage hypnotists, but fear not, you will not be left clucking like a chicken!




What is Hypnotherapy?

Stage hypnotism is nothing like hypnotherapy.
During hypnotherapy you achieve a completely relaxed trance-like state, from which you are able to return whenever you wish; you are always totally in control.
Whilst you are in this relaxed state and your conscious mind is sleeping, suggestions can be made to your subconscious mind related to the changes that you have chosen to make,
without the noisy chattering of the conscious mind getting in the way.
This way the suggestions are accepted by your subconscious mind and this paves the way for your belief system to accept them.

Hypnotherapy helps your subconscious mind to accept the changes that you want to make, it would never accept suggestions that were wrong or harmful to you.
Fees

Hypnotherapy and BWRT £60 per session (one hour)

Weight Management £60 per session (one hour)

Stop Smoking £175 for one two hour session, inclusive of consultation, plus a follow up session if required